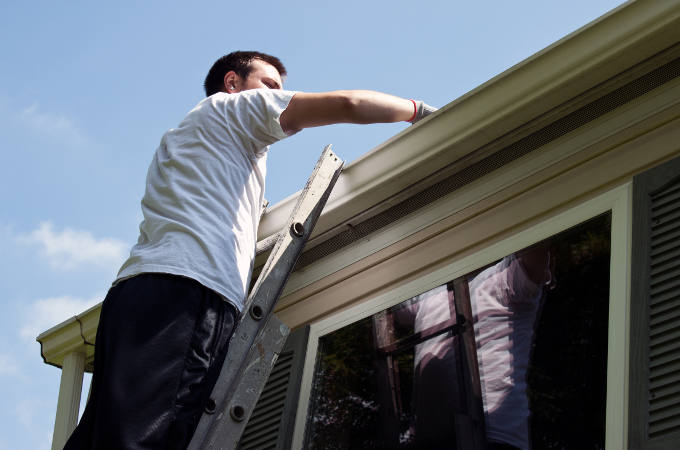 Summer is finally here, and the warmer weather means it's the perfect time to get outside the house and enjoy the garden… It also means that it's a great time to tackle those important home maintenance jobs that you've been putting off with the excuse of bad weather.
Completing a few simple jobs is all it takes to keep most homes in good condition, with work on the outside benefiting the inside in many cases, too. Whether you're hoping to impress prospective buyers when you put your house on the market this summer or simply want to enjoy a clean home for yourself, here are six essentials for keeping it at it's best.
1 – Inspecting for damage
Your home sees a lot of wear and tear over winter months, with fluctuating temperatures and adverse weather conditions taking their toll on walls and roofs. On a clear, bright day it's sensible to walk around the perimeter of the house and look for cracks, loose tiles or other signs of damage that have appeared or been exacerbated over the last few months – repairing these should be a priority.
Remember, if you are particularly concerned about any damage, a surveyor will be able to investigate the extent of the problem and help you determine the best course of action for remedial work.
2 – Cleaning windows
Wind and rain inevitably leave a layer of grime on your windows, which you might not even notice until the sun starts trying to shine through again. Grab a bucket of soapy water, a large sponge and squeegee for a sparkling finish.
This is the perfect opportunity to check that your window frames, lintels and sills all seem to be in a good condition – a blown seal or rotten timbers will be much easier to address in good weather.
3 – Emptying gutters and roofline
While your ladder is to hand, it's time to clear out your gutters and scrape your roof. A build-up of moss, twigs and other debris can trap moisture and allow damp to penetrate into your building, which will be much more unpleasant to deal with than simply emptying out your rainwater goods a few times a year.
4 – Blasting patios and paths
Over time, paved areas get grubby and covered in moss, which leaves them looking distinctly unloved. Renting a pressure washer for a weekend is the quickest way to get patios, driveways and paths looking shiny and new again.
5 – Refreshing exterior walls
Depending on the material of your house, you may even be able to use the pressure washer to get your outer walls looking fresh, too – just make sure you've repaired any cracks first. Once it's dry, touch up the paintwork and give your front door a wipe down too.
6 – Clearing ventilation
Another aspect of your home that's easy to forget is its ventilation. Use a duster or vacuum cleaner to keep indoor extractor fans working efficiently and find a thin tool to clear cobwebs out of air bricks. This is another important job for keeping the inside free of damp and mould, allowing fresh air to circulate between walls and floors.
If you are planning to sell your property this year, we would recommend getting a survey to make sure the winter months haven't caused any hidden damage that could deter a potential buyer. Whether your home is nearly new or hundreds of years old, having a report confirming that everything is working properly (or warning you if it isn't) provides you with a realistic expectation of what a buyer sees when they come to view.
For more information about our surveys, or if you have any questions, please give our team a call and we will be happy to help.