Before I started out on the career path that I now find myself on, I was heavily involved in the hospitality trade working for large companies such as Whitbread and the Stonegate Pub Company as well as chain free local places. I have a degree in Hospitality Management and over a decade of experience in that field which is where I would say that I learned a lot about the values of service and standards.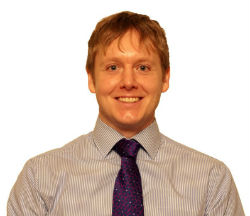 Those values are ones that I believe I will carry over into my new career of surveying and valuation and as a home is likely to be one of the most expensive purchase that a person will make  in their lifetime, anything that I can do to help with this process and make it as an enjoyable experience as possible for the client could make the world of difference to them during the stressful time.
For the last 3 years I have been studying, shadowing and working alongside our senior surveyor, Andrew Crossman, where I have been able to strike a balance between work, study and home life and having recently qualified as an associate member of the RICS, AssocRICS, I feel I have gained valuable experience and knowledge in both surveying and valuation work and now look forward to the challenges that lie ahead.
The diploma level course was primarily distance learning with occasional visits to Milton Keynes for lectures, interviews and accompanied inspections. Working alongside Andy whilst I completed a portfolio of assignments gave me a chance to learn from the book and apply it into the real world of surveying. Due to the wide variety of different type and age of properties within our catchment area, the modern houses to the old C16th stone-built properties on Dartmoor, I find that no two days or two properties are the same and that the experience of shadowing a senior surveyor has been invaluable to my development.
Now that I am qualified, I hope to gain more valuable knowledge and experience within the trade and study towards a full membership with the RICS to become MRICS qualified whilst maintaining my values of service and standards obtained within the hospitality industry.